VENDOR INFORMATION
Interested in booking a booth space?  Stop by the Market World office Wednesday or Thursday between 9 am and 4 pm to find out if booth space openings are available for the upcoming weekend.  The Market World Office is located in the Big Yellow Building (Building K).  We have a small number of booth spaces left for the Nov – March peak season.  Reserve your booth space today!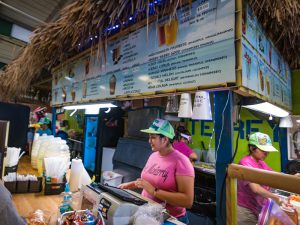 Booth Rental Requirements:
.
We are not accepting booth applications at this time for the following:
Guns and ammo products
CBD / THC products
E cigarettes
Psychic services
Food concessions
Cell phone accessories
Fireworks
Vending Machines
.
---
.
YARD / GARAGE SALE VENDORS
Looking to get rid of clutter around your house and make some cash?  Sell your stuff this weekend at the Market World!
TOP SELLING ITEMS
Tools
Toys
Collectibles
Antiques
Vintage Clothing
Jewelry
Several thousand shoppers visit the Market World each weekend looking to buy new and used merchandise.
 Call the Market World office at 863-665-0062 on Wednesday or Thursday between 9 am and 4 pm to learn more about booth rental availability for this weekend.
---
.
SPECIAL VENDOR OPPORTUNITIES:
Central Florida Health Expo
The Central Florida Health Expo is the area's premier event for health-conscious adults hosted by the Central Florida Health News.  This is a great way to connect with new residents and Medicare eligible seniors.  The event is held in the Market World's Big Yellow Building.  Reserve your booth space at https://centralfloridamediagroup.com/central-florida-health-expo
Upcoming Event dates:
2023 – 2024 Season:
October 13
November 10
December 15
January 12
February 15
March 15
Cottage Food Vendors
We have an outstanding opportunity to make money selling cakes, jams sweets and other packaged food items at one of the top farmers markets in the state.  Each weekend several thousand customers stroll through the Market World aisles shopping for farm fresh produce and other food items.  To learn more about vendor opportunities contact the Market World office Wednesday or Thursday from 9 am to 4 pm at 863-665-0062
2024 Spirit of the Buffalo Pow Wow and Native American Festival
We are now accepting vendors for the 2024 Spirit of the Buffalo and Native American Festival slated for January 26-298, 2024 & February 2-4, 2024.
Native American jewelry and craft vendors
For more details visit www.spiritofthebuffalopowwow.com Questions? Call 863-665-0062 for vendor information and registration.
The Market World is an ideal location to start your new business. Each weekend the Market World attracts several thousand customers from all over Central Florida.
If you are looking to start a new business, you have come to the right place. The Market World offers a great opportunity to build a following, test market new product ideas, and refine your marketing practices before you make a large financial commitment on a stand-alone location. Average commercial retail space in Central Florida's Polk County ranges between $15 to $20 per square foot.  Factoring in the cost of utilities and marketing a small storefront in a shopping center could easily run $1,000 to $2,000 per month before the first customer walks through the door.  The Market World offers the added benefit of built-in foot traffic at a fraction of what you might pay for comparable space in a mall, downtown storefront, or shopping center.
The Five P's for Successful Flea Market Vendors
Patience – Be patient. Success does not happen overnight. Expect some great sales days and some not-so-great sales days.
Persistence – Our most successful vendors are persistent. They have developed persistent habits that make customers feel welcome. They are persistent about greeting, engaging and thanking customers and spend little time on their mobile phones. They understand Publix, Wal-Mart and Home Depot didn't become great retail companies by opening late and closing their shops early.
Perseverance – Theft, rude customers, employee call-offs, poor weather are all headwinds that every small business owner must navigate on occasion. Long-time Market World vendors expect these issues to arise and have plans to lessen the impact.
Passion – Long-time Market World vendors are passionate about what they do. They spend half of their time working in the business and the other half of their time working on the business. They share their passion with their customers by offering education and/or classes about their service and merchandise. They network with other vendors and build partnerships to expand their marketing footprint. They are passionate about their marketing, signage and packaging so that it communicates a professional image.
Purpose – Many successful Market World vendors are purpose-driven. This means they plan their work and work their plan. Each week they look for ways to maximize sales and minimize expenses.  They understand that they cannot compete with major retailers on price, so they look for other ways to fill customers needs by offering delivery, providing outstanding customer service and offering custom orders.
Here are a couple of free and low-cost marketing resources that can help you build sales.  With an investment of an hour or two a week you can build a following of several hundred people that will grow to several thousand people over time.
Digital Resources
Facebook – every Market World vendor should have a Facebook business page.  The Market World office receives countless phone calls every week from customers looking for product availability and business contact information.  Facebook offers a great way for small businesses to connect with prospects and customers – best of all it is free.  A typical Facebook post may reach 50 to 100 people.  For an additional fee you can have Facebook "boost" your message to an expanded audience.
Facebook Marketplace  – Facebook Marketplace is a popular area where vendors can sell products for delivery or local pickup.  Several Market World vendors have use this tool to allow customers to buy online with a credit card and pick up items during Market World normal business hours.  Facebook Marketplace is also a great way to offer delivery on smaller items to snowbird customers.
Facebook Groups –  Facebook Groups are great way to build a following for your business.  There are dozens of local yard sale and buy/sell groups where vendors can post their products and services for free.    A typical Facebook Group may have several thousand members.
Instagram –  Instagram is a simple, fun and creative way to capture and share photos, videos with others.   Share photos of your booth, staff, customers and new products.
Google Business Profile – Google Business profiles are essential for growing your business.  This free listing helps customers find you on Google Search and Google Maps.  Google business profiles can help you get your message out to thousands of local prospects a week.  For many local business owners Google Business Profiles deliver the biggest bang for your investment in time.
Websites – for most Market World vendors social media platforms offer a better return on investment versus the time and expense of building and managing a website.  WordPress.com,  Squarespace.com and Wix.com offer free templated website that are ideal from building a basic "business card" website with the option to upgrade to a paid version that offers additional functionality.
Craigslist –  Craigslist.com has been around for many years and still commands a large audience despite its outdated design.  A typical post might reach several hundred customers looking to buy all kinds of products and services.  Sellers can post items in most categories for free.
Print Resources
Twenty years ago if you wanted to start a business a marketing a $10,000 marketing budget was not uncommon.  Today, vendors can take advantage of some wonderful do-it-yourself marketing tools to build professional looking marketing materials.
Fivrr.com – Fivrr.com offers low-cost branding and logo development for under $100.  Navigate to the logo design page and use the Logo maker tool to customize a pre-made logo to your needs.  We think you'll be amazed.
Gotprint.com – Need brochures, signage, business cards, banners or postcards?  Gotprint.com offers tools to build marketing materials and pay with a credit card.  Gotprint.com is ideal for small jobs with flexible timelines.
Central Florida Media Group – If you need assistance with developing social media or marketing materials reach out to our friends at the Central Florida Media Group.  They have many years of experience creating social media presence and marketing materials for wide array of local businesses.  They have top-notch writers, photographers and designers who can work with you to build marketing materials.
Delivery Resources
Doordash and Uber Eats are now offering delivery services for retail businesses.  Offering home delivery is a great way to reach new customers and grow your business.
Looking for a venue to hold your next event?  The International Market World operates venues that can accommodate 10 to 10,000 guests. Over the years we have hosted a wide variety of events:
Cultural Festivals
Health Fairs
Christmas Light Shows
Bluegrass Festivals
Dance Festivals
Worship Services
Circus Performances
Concerts
Car Shows
Veterans Events
Carnivals
Petting Zoos
Food Festivals
Fund Raising Events
Training Events
Big Top Circus Tent – The Big Top Circus tent is located on the west end of the property and is available on selected dates from November to through April. The tent is 240 ft long, 140 ft wide and 60ft high and can be configured with a ticket booth, portable sound stage and sound equipment.
Gator Theater – The Gator Theater is located in the Big Yellow building and is home to the Market World circus. The Gator Theater is available on selected dates year-round.  The Gator Theater is equipped with lighting and sound equipment.
Carousel Theater – The Carousel Theater is located in the I-Building and is also home to the Market World circus.  The Carousel Theater is available on selected dates year-round.  The Carousel Theater is equipped with bleachers, lighting and sound equipment.
Double Dragon Restaurant – The Double Dragon is a cafeteria-style restaurant located in the Big Yellow building.  The Double Dragon hosts live music and karaoke events on a regular basis.  The Double Dragon Restaurant is available on selected dates year-round.  The restaurant is climate controlled and includes a stage, lighting and sound system.
For more information about renting these venues contact the Market World office Tuesday through Sunday at 863-665-0062
Rule Sheet
All dealers are responsible for following all Market World rules. Dealers are responsible for any and all costs and/or attorney fees resulting from any grievance or legal liability. Market World complies with all County, State, and Federal regulations and will cooperate in the enforcement of them.
Before you rent a space you must have a FLORIDA STATE SALES TAX NUMBER, a VALID PICTURE I.D., and a POLK COUNTY OCCUPATIONAL LICENSE.
ALL RENT IS DUE IN ADVANCE. An early payment discount is available for those paying their monthly rent early for the upcoming month. Payments received between the 1st and the 15th are given a 10% discount. Payments between the 16th and the 25th are given a 4% discount. As of the 26th of the month, no discount will be given. Dealers having an outstanding balance are not entitled to discounts. All unpaid balances will be subject to a 1.5% monthly finance charge.
Mondays and Tuesdays, the Market and the office are closed. Drop payments may be made, but only handwritten receipts will be given. No one is allowed into the Market for security reasons. Please abide by this rule.
Please have your booth receipt available whenever you are at your booth. Unauthorized use of a booth is subject to a $20.00 fee in addition to the normal cost of the booth.
Dealers interested in exchanging or transferring booths must submit a request in writing. The forms are available in the rental office. MANAGEMENT MUST APPROVE ALL TRANSFERS. There will be a $20.00 minimum service charge per booth before you will be allowed to transfer. No transfers are done during the weekend. Any vendor wishing to relocate in the middle of the month will be charged a minimum of $10.00 per space.
Dealers must be in their booths, set up and ready for business by 8:00 am Friday, Saturday, and Sunday, our posted and advertised hours, or they must notify the rental office that they will be late. After 9:00 am booths can be re-rented. SORRY, NO REFUNDS!
Dealers may not sublet, loan or sell their booth. Violators will lose their spaces and forfeit any rent paid.
Weekly booths that are not paid for by 5:00 pm on Sunday are subject to re-rental on the following Wednesday.
Checks are accepted for monthly rentals, and only with proper identification. There is a service charge on all returned checks:

$25.00 for checks up to $50.00
$30.00 charge for checks between $51.00 and $300.00
$40.00 for checks $301.00 and up

The first time a check is returned, the dealer will be charged accordingly and checks will no longer be accepted.

Dealers are responsible for their property and merchandise. Market World will not be liable for theft, damages, fire, or personal injury. Market World is not responsible for any damages caused by the weather (rain, wind, etc.). Vendors merchandise must be displayed in a safe manner. Dealers are responsible for all liability resulting from their sales and displays of merchandise.
All merchandise and signs must be kept behind the yellow lines. Signs require permission from management. They can be no lower than 7 feet off the floor. Maximum display height is 5' from the floor. Unauthorized or unsafe signs will be removed without warning.
Sale of food, drinks, and/or samples are prohibited without written permission from management. See management for further details.
SAFETY FIRST!! Anything found to be safety or fire hazard may be removed without notice and at the vendor's expense.
Nothing is to be attached to the tables, posts, or buildings without permission from management. All tarps attached to the buildings or structures must be white and fire retardant. Unauthorized objects or structures will be removed without warning. No extension cords are allowed. Any extension cords found in booths will be taken without warning. You may use surge protectors that are no longer than six (6) feet.
No amplifiers, bullhorns, loudspeakers, etc., are allowed. Radios, TVs and stereos must be kept on low volume.
Pets are prohibited in the market for health and safety reasons. PLEASE LEAVE YOUR PETS AT HOME.
Light electric use is provided to dealers in buildings. This electricity is primarily used for the testing of merchandise sold. Continuous use of electricity greater than 2 amps (200 watts) must be approved prior to use. There is an additional charge. No lights over 100 watts may be used. Coffee pots, fry pans, hot plates, electric heaters, refrigerators, etc., are prohibited.
It is the responsibility of each dealer to keep their booths clean. Failure to do so will result in a cleanup charge. Trash containers are for customer use only. Dealers need to break down their boxes and put them in the dumpster, not in, or beside, the trashcans.
Dealer's children must remain with the dealer at all times. Misbehaving children will not be tolerated; repeated problems will be grounds for dismissal from the Market. Dealers are responsible for any damages caused by their children.
Counterfeit and look-alike products are prohibited. Each dealer assumes full legal liability for any legal action that may result by carrying such items.
Dealers are expected to act in a professional manner. Misrepresentation or fraud will not be tolerated. Repeat customer complaints of improper business conduct will be grounds for being expelled from the Market. Profanity and/or rudeness to customers, other dealers or Market World employees will not be tolerated. You will be asked to leave.
To prevent price wars and Market World personnel becoming involved in dealer disagreements, we place dealers whose majority of merchandise is similar to another dealer's at least five (5) spaces from one another. Market World reserves the fight to expel, relocate, or refuse rental to any dealer when it is deemed in the best interest of the Market. Decisions made by Market World management are final, including the choice of providing refunds.
Before changing your primary merchandise, or adding new items to your inventory you must receive permission from the rental office.
If you would like to leave a trailer or shed on the property, see management for further details. Any items left behind without permission will be disposed of after thirty (30) days. Storage and clean up fees will be assessed.